Product Details
No more Alone & Irritated Cats!
Is your anxious and irritated cat always ready to bite you? Or is your cat feeling down because she lives alone and you are still busy with work? It's time to think about your four-legged friend's health and intellect. The Electric Yo-Yo Lifting Ball is a perfect blend of joy with making your cat active. It reduces your cat's anxiety and turns out an overwhelming toy to train your cat for hunting. 
The Electric Yo-Yo Lifting Ball senses your cat and reads its playing pattern to amuse your cat and never let your cat feel alone or exhausted at home. It makes your cat super-intelligent, fresh, and playful all the time. Also, the Electric Yo-Yo Lifting Ball is not at all harmful for your cat.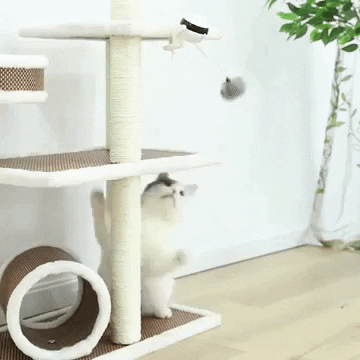 Keep your Cat Active & Excited! 
Key Benefits:
Unique Design: The elegant and simple design makes Electric Yo-Yo Lifting Ball look lavish, and its delicate color makes it an even more perfect match with your furniture. 
Automatic Power-Off: The Electric Yo-Yo Lifting Ball turns on with a single button push and gets off after 5 minutes of continuous usage, or you can also manually turn it off. 
Agile Training: The Electric Yo-Yo Lifting Ball is super interactive to amuse your cats and eliminate irritation and anxiety from them. It makes them active and intelligent for instinct hunting. 
Quality Construction: The Electric Yo-Yo Lifting Ball is made of rugged ABS resin material to avoid breaking no matter how long your cat is playing. Also, the furball is not harmful to your cat's health. 
Intelligent Sensor Movement: There is an innovative motion sensor in the Electric Yo-Yo Lifting Ball as it automatically leans down when it senses cat movement towards it. Also, it efficiently detects your cat's playing patterns to amuse it in a better way. 
A Hanging Toy: As the Electric Yo-Yo Lifting Ball is highly portable hence you can clip it anywhere, like on your desktop, table, chair, or any flat surface with a hanging side. 
Removable Hairball with Strong Rope: The furry hairball is removable so that if your cat catches, it removes it properly. Also, the sturdy rope makes it durable and highly playful for your cat. 
Separable Base: The base of the Electric Yo-Yo Lifting Ball is detachable; hence you can also play with your cat while keeping the yoyo ball in your hands.  
🔥 Super Easy Installation! 🔥
✔️ Install 2 x AAA batteries.
✔️Connect the ball to the base. 
✔️Install it at your favorite place.
✔️Press the switch to start the fun.
Specifications:
Type: Electronic Motion Cat Toy
Perfect for installing on 0.4-1.2inches desktops
Material: ABS
Color: As shown
Weight: 3.60 Ounce (without batteries)
Size: 2.75 x 1.37inches
Package Includes:
1 x Electric Yo-Yo Lifting Ball
*The product does not include batteries
💰 💰30-Days Money Back GUARANTEE 💰 💰
We choose and deliver only quality products, and in a rare case, if you are not completely happy with your purchase, drop us a message. We will refund without any questions.
🚚 🚚 Only Express Delivery: 🚚 🚚
👉 Free WORLDWIDE Shipping
👉 US/UK/CA/AU shipping time: 4-14 working days
👉 International shipping time please check our
Shipping Policy
levering duurde even. uiteindelijk in goede orde ontvangen
Parfait et reçu très très vite, merci
Nice pile of very short duration